It is the fear of every pet parent. Your Dogue de Bordeaux is wounded, sick, possibly collapsed! Panic rapidly takes over your entire body. Do you know what to do? Do you have the necessary supplies to give your Dogue de Bordeaux the care he needs until you can get to the vet?  Having a first aid kit put together and at the ready will give you the peace of mind of feeling prepared, rather than helpless.
Your first aid kit can range from quite extensive to the most basic. I'm going to share what I have found the fundamentals of a first aid kit should include for your Dogue de Bordeaux. I will also list some excellent extras that I highly recommend if you want to go the extra mile.
THE BASICS
Information card with your veterinary emergency phone number and the local or national poison-control number.
 First Aid & Veterinary handbooks.
Muzzle. If you do not have one, you can put together a makeshift one with a length of fabric.
Bandaging Materials:
Sterile Gauze Pads
1- to 2-inch rolls of gauze
Bandage Tape
Self adherent vet tape wrap (mine is the fun green color)
Antibiotic ointment for wounds.
Large needleless syringe or eyedropper. It is a good idea to have more than one of these. You can use these to give liquid medicine or for wound irrigation.
 Tourniquet to stop/slow the loss of blood to on an injured limb.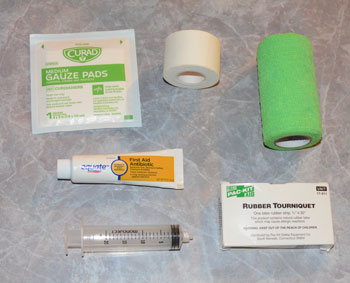 Blunt scissors for bandaging (also to trim fur away from wounds).
 Tweezers or hemostats to remove splinters and other foreign objects (I have had to use these for some pretty bizarre DDB situations!) Look for the tweezers that have a tiny flashlight on them.
 Suture scissors for removing stitches.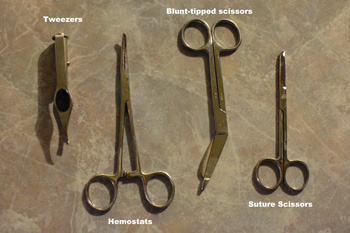 Electric clippers to trim fur around wounds. I have this one and it works perfect for the occasional shaving of an isolated area.
Rectal thermometer. I also use a disposable cover for reach use. Your Dogue de Bordeaux's normal temperature should be 99 – 102.5 degrees Fahrenheit.
 Lubricant. Such as K-Y Jelly to lubricate the tip of the thermometer for your Dogue's comfort.
Clean towels, blankets and washcloths. To restrain your Dogue if necessary, to keep him warm, or use as a stretcher,
 Cold packs and hot packs. A washchloth and hot-water bottle will do in a pinch.
Antiseptic liquid soap. Such as Betadine Skin Cleanser.
10% Providone Iodine. Make a wound irrigation solution by mixing 1.25 ml Iodine per 1 cup water.
 Wound & skin care product. Like Vetericyn spray.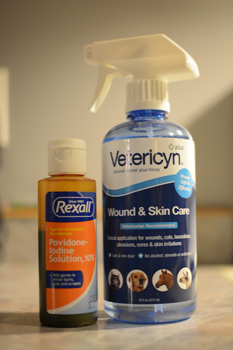 Cotton balls.
 Karo syrup or honey. For shock and hypoglycemia.
 3% hydrogen peroxide to induce vomiting. For instance, if your Dogue de Bordeaux were to swallow a poisonous substance. The appropriate dosage is 1 tsp for every 10 lbs of body weight.
 Hydrocortisone cream. To alleviate skin conditions such as inflammation from infection and itching or other symptoms caused by allergies.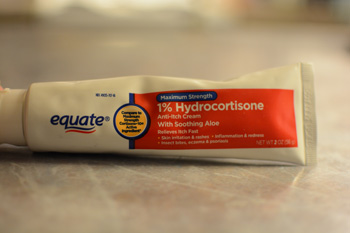 Antihistamine (Benadryl) for allergic reactions.
Styptic powder (Kwik Stop).
 Anti-diarrheal containing loperamide (Imodium AD)
 Disposable gloves
 Aspirin for pain. 325 mg per 30 lbs/81 mg per 7.5 lbs every 12 hours. NEVER give your Dogue de Bordeaux Ibuprofen, Tylenol, Motrin or Aleve.
 Sterile saline contact solution to flush wounds and debris out of eyes.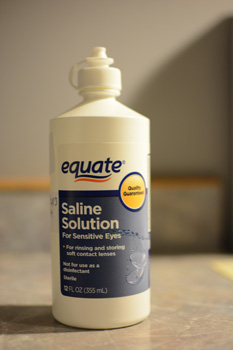 ADDITIONAL
 Bloat kit. Can be purchased through Natures Farmacy.
 Lift jacket may come in handy. Something simple like this one will do.
 Elizabethan collar. LINK
 Stethoscope. Your Dogue de Bordeaux's normal heart rate should be between 60-100 beats per minute.
 70% isopropyl alcohol. Besides its typical first aid uses. Isopropyl alcohol has a cooling effect on the skin. Keep some in a plain spray bottle. If your Dogue gets overheated, spray some under his arms, on his chest and the pads of his feet to draw some of the heat out. Do not use too much alcohol as it can be harmful if ingested.